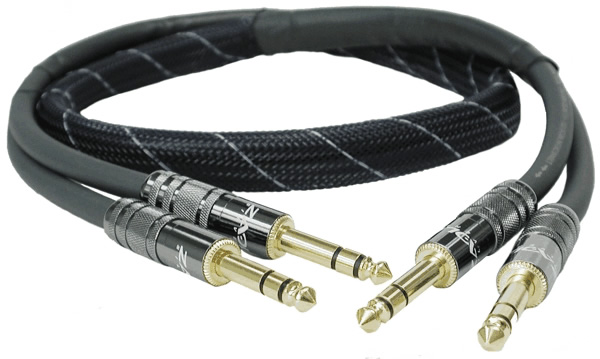 ---
The ZCSS cables are balanced 1/4" interconnects of uncompromising quality. Offered in both single and dual configurations. The dual features a durable and attractive outer nylon webbing material.
0
0
Zaolla Silverline Audio Intercon-
nects are designed to transmit every subtle detail of your source material while keeping noise out. From the solid silver center conductor to its redundant shielding, Zaolla Silverline Audio Interconnects truly delivers transparent audio like no other cable before. Above is an illustration of the basic structure of the Zaolla interconnect. As you can see, these are serious cables, with multiple layers of shielding. The quality of materials and workmanship is second to none, and in fact these cables are so well engineered, they raise the bar to which all other cables must aspire.

Our Audio Interconnects are designed to work with skin effect, essentially by creating more surface for high frequencies to travel. This is accomplished with multiple, enamel coated, oxygen-free copper windings working in conjunction with the Ultra Pure, solid silver center conductors. In this manner, high frequencies are given multiple surfaces to travel free from interference. This causes a dramatic decrease in high frequency "smearing" and other time-based phase or amplitude induced signal degradation. To ensure superior EMI, RFI, and electrostatic rejection, Zaolla cables employ very densely braided, silver plated pure copper windings over a soft layer of conductive PVC for 100% coverage, flexibility, noiseless handling, and interference free operation.








---
Related Products
Product Code
6357

Description
Balanced 48 Point Patch Bay

$129.95 Add to cart

Product Code
g25

Description
Gift Certificate (may be purchased in multiple amounts)

$25.00 Add to cart

Product Code
41395

Description
Pro Wall Mount Cable Hanger

$19.99 Add to cart
Zaolla
ZCSS 210 - 10 Foot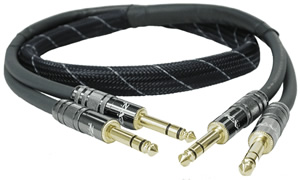 Dual 1/4-inch Stereo - Dual 1/4-inch Stereo (10ft.)
MPN #:
UPC #:
Regular price: $278.00 $250.2000 Available from: 8th Street Music Condition: New Available to Order