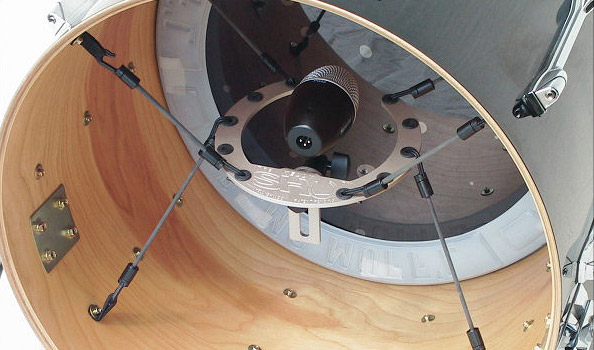 ---
The KELLY SHU Kick Drum Microphone Shock Mounts have been designed to adapt to 99% of all kick drum miking applications. The only kick drums that have been found which will not accommodate the system are Peavey's Radial Pro series drums. All other manufacturer's bass drums will allow for installation of the system, both internally and externally. This microphone shock mount system was designed out of necessity for a better way to run a microphone on a kick drum. The KELLY SHU™ accepts standard microphones and clips and also utilizes your kick drum's existing hardware with no drilling required for installation.
0
1
UPC: 000888882873

- Saves Valuable Stage Floor Space! The system requires 0% of available floor space. Since the mount is suspended on the drum itself, there is no need to find extra room on the stage floor or drum riser for placement of that troublesome kick drum microphone stand! The system allows the drums to be set up close to the edge of a drum riser, with no room needed for an extra microphone stand to hold the kick drum microphone.

- Stops Unwanted Noise Signals! In many cases, smaller clubs and venues have a sound stage which is constructed with a mostly hollow interior. This causes a problem for vibration of the stage to travel through the kick drum microphone stand and create an erroneous signal from the large-diaphragm microphones typically used to amplify kick drums. The KELLY SHU™ Microphone Shock Mount is suspended on rubber anti-shock cords, which totally isolates the bass drum microphone from vibrations of the kick drum and sound stage both.

- Saves Time At Set-up And Tear-down! The system has been designed to allow the microphone to stay with the kick drum during transport. The kick drum is able to be placed in its road case with the microphone intact, ready to be connected to the sound system as soon the drums are set on the stage. This saves the time needed to set up and adjust an extra microphone stand to accommodate the kick drum microphone.
---
Kelly Shu
The Kelly SHU System - Natural Clear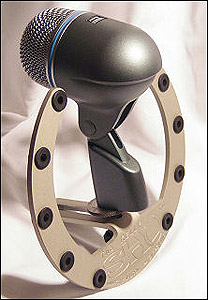 Kick drum microphone shock mount
MPN #:
UPC #: 000888882873
Regular price: $199 $109.0000 Available from: 8th Street Music Condition: New Available to Order