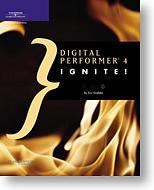 ---
Are you ready to explore the world of music sequencing on your desktop? "Digital Performer 4 Ignite!" is your introductory guide book that will lead the way! Get a step-by-step, illustrated introduction to the world of Digital Performer and learn how to use many of the tools that it has to offer. Along the way, you'll gather tips that will help you create your work faster and easier, and you will learn some creative tricks to make your music stand out. "Digital Performer 4 Ignite!" takes you through the steps you need to successfully record, edit, and mix using the amazing audio and MIDI sequencing production system that is Digital Performer. Ignite your music with the power of Digital Performer!
0
0
Features

Contains many large screenshots with numbered callouts explaining exactly what is happening in the illustrations.


Covers topics for beginners, as well as upgrade users.


This book flows in a manner that acts like building blocks - making sure enough information is provided before moving on to the next step.


Includes the most up-to-date content for Mac users making the switch to OS X, who will therefore need to upgrade to DP4.


Written by an experienced author and computer teacher — a great way to learn Digital Performer.



Table of Contents
1. Installing Digital Performer
2. File Basics
3. Hardware Setup
4. Basic Navigation
5. The Control Panel
6. The Tracks Window
7. Recording
8. Basic Editing
9. General Editing
10. The List Editor
11. The Graphic Editor
12. Audio Editing
13. Audio Effects and Plug-ins
14. Mixing
15. The QuickScribe Editor
16. Searching
17. Getting Help
Appendix A: Review Questions


Author Bio
Eric Grebler
Eric Grebler is an IT professional, author and certified trainer who has demystified the world of computers for thousands of people. Originally from Ottawa, he currently resides in Toronto, Canada. Eric has developed curriculum and resource material on a wide range of technical topics including desktop publishing, graphics, XML and operating systems. He is also the author of "Digital Performer 4 Ignite!" (Course Technology PTR, 1592003524), "Lindows Fast & Easy" (Premier Press, 1592000606) and "Windows XP Media Center Edition Fast & Easy" (Premier Press, 1592000835).
---
Muska Lipman
Digital Performer 4 Ignite!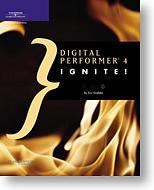 covers tons of production tips and shortcuts for using Digital Performer digital audio workstations
MPN #:
UPC #:
Regular price: $0 $19.0000 Available from: 8th Street Music Condition: New Available to Order